Chest Harness for men: three ways of wearing the most fetish and fashionable accessory of the harness collection
The versatility of wearing a fetish harness for men is unlimited, in the following lines we will be considering the different options that one of the Chest harnesses can offer.
You may consider that our harnesses can only be worn as underwear garments, but away from that perception here, we provide our readers with all the alternatives and options that harness give you depending on how you combine them and what is the purpose of the occasion you wear them for. Within Ruben Galarreta's range of harnesses, one can find a wide variety of shapes and styles that will surely fit any occasion. Is for that reason that one can give them different applications, including party harness, BDSM harnesses, gay harnesses, fetish harnesses, fashion harnesses, cool harnesses, sexy harnesses.
Forget about old-fashioned conceptions of the harness being a "risky" accessory. The truth is that when incorporated to a boring outfit, they can give you the wow effect you always want to get in your looks. We all know harnesses are the perfect choice to wear with your favourite jock for those naughty occasions, adding that bit of spice to your sexual life. But as you are about to see these can be combined and matched in many other ways, including:
Biker look: a hot way to style a fetish harness 
The biker jacket is an all-times garment. Everyone has one, and if you don't, you should get one. To match that look, the best thing to do is to mix and match with a much more subtle garment, like a lace shirt or transparent shirt. Your harness will be adding the final touch for that innovative look. Allowing you to make the difference and freely express yourself through fashion and be the most coveted guest at any gay party.
Classy look: a more conservative total look for this unique accessory
We could say this is the most conservative look of the ones here sugestes, but of course, that depends on what you consider "conservative". Again, the harness will be the focus of our outfit, but this time combined with a white shirt and a black blazer. Who doesn't love an office look as in Men at Play? Morbidness would be guaranteed to your look. You can also go step further and use the same combination for the most special occasion. Adding a harness to a fancy evening suit could be the perfect match for a wedding, Christmas dinner or even New Year's Eve.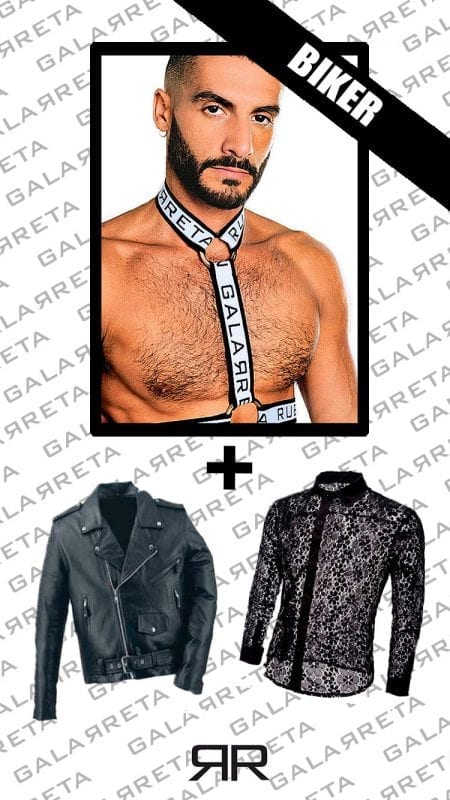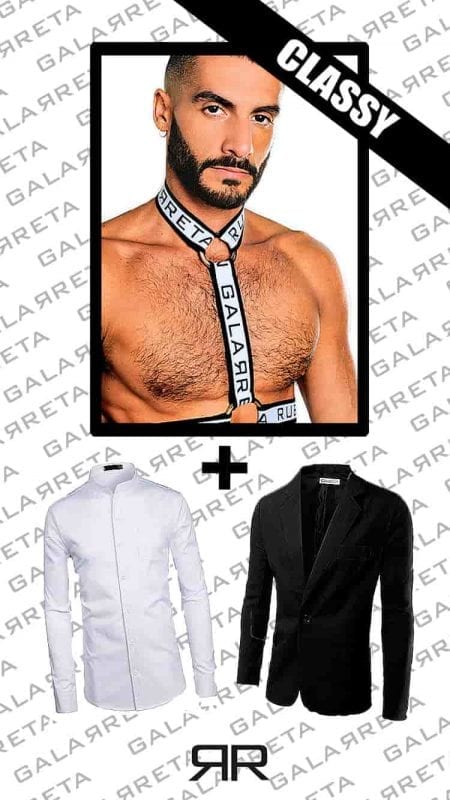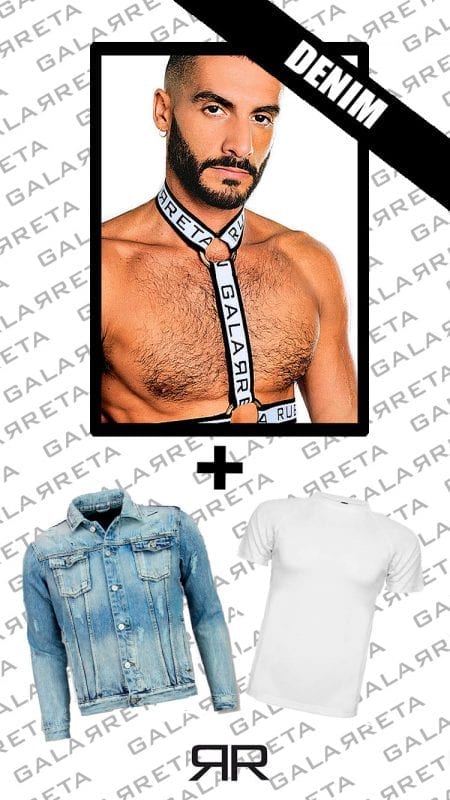 Denim style: one of our favorite options to wear a chest harness 
Of course, we also considered everyday wear, not everything is about glamorous events, meetings or sexy parties where jockstraps and harnesses have the leading role. We also present to you a style that is much more casual. You can wear it at any time of the day. For this look you just need a denim jacket and a white t-shirt, to this, you'll add a black harness on top. Who can't rock this look? It slenderizes so much the neck and the chest on a shirt with a specific colour. The colour combination with the denim fabric will suit you so well that you would want to make it a 'must have' in your daily day. And you won't feel like taking it off. At least not until the date that you have that day moves forward and you end up in his bedroom.