Say street fashion with a bohemian edge to it and what comes to mind are graffiti nooks and corners of Madrid with street style clothes being the norm of the day for every youngster. The artistic land of Madrid is like any other European country where fashionistas and style gobblers do not shy away from wearing what is quirky, eccentric and in absolute sync with the trendiest of clothes straight from the Fashion Weeks. Be it cross body bags, ideology changing apparels, puffy bomber jackets, or something as simple yet cool as track pants, jackets, and sneakers – they are all to be found on the streets on Europe. Someone was absolutely correct in stating that land on the European street for your daily or yearly dose of what is actually in vogue.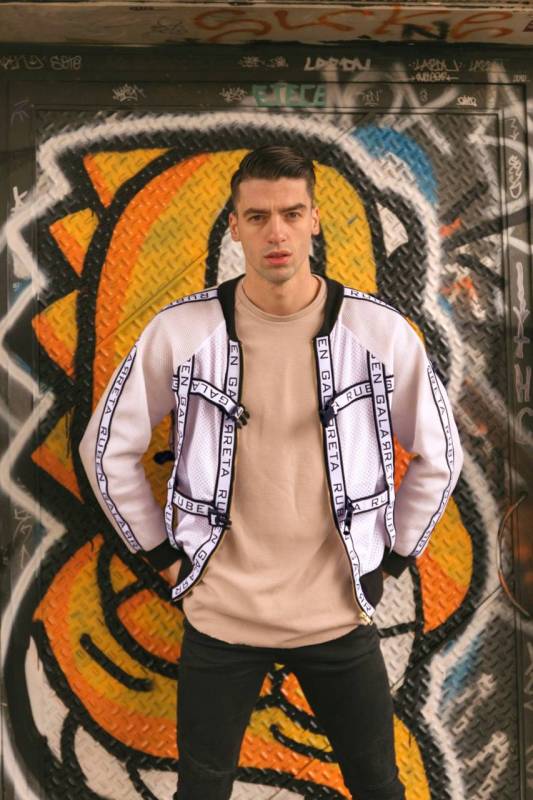 That being said, bomber jackets have been in vogue for a while now. This particular White Harness Bomber Jacket is what will set your style game rolling once you spot it on the streets of Europe. Initially used for athletic wear, the fabric mesh, which is defined by its closely placed holes, has been used on this stunning white harness bomber jacket. Setting this apparel apart is the classic Ruben Galarreta tape details on the front and back with clasps, which will definitely make it the most talked about accessory of the day. White is the color of absolute style blended with a hint of sophistication, making it the most opted for hue by men of all ages. This white mesh harness bomber jacket will give you the much in demand sporty look for a sunny day out and you can take your style quotient to the next level by coupling it with a contrast black t-shirt and neon shoes for that hint of pop.
The best and easiest ways to style a bomber jacket on the streets of Europe are by wearing it over a long t-shirt or polo t-shirt. Do be in trend with layering; wear a hoodie under the jacket. For those cold winter mornings, you can team it up with a black or grey sweatshirt for the warmth and black trousers in case of that casual look.