Interview to Ruben Galarreta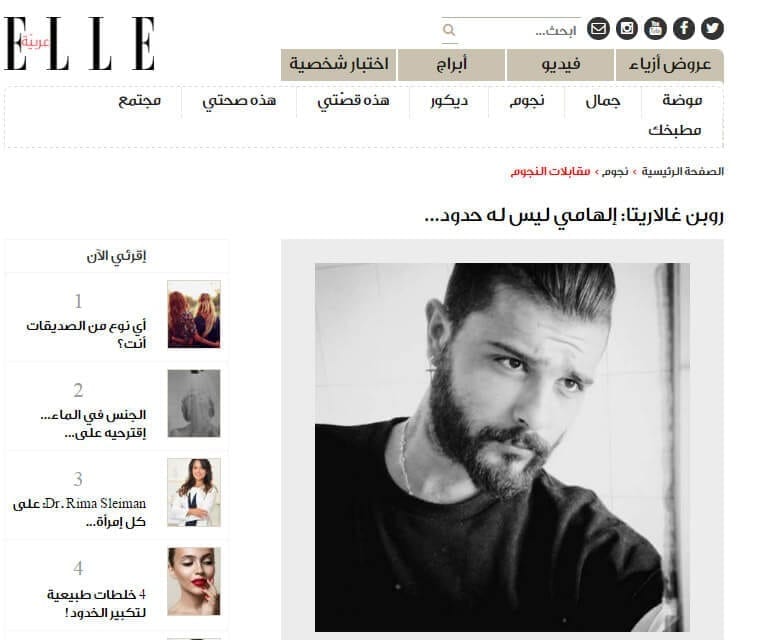 ELLE ARABIA: Why did you choose fashion designing as a career?
RUBEN GALARRETA: My inspiration was my mother and how she used to experiment with the colors while stitching her own dresses. In fact, all the women in my life have inspired me in some way or the other to have a unique fashion sense. I have spent my childhood amidst these powerful women from whom I have developed the interest for fashion and designing. Since then I have chased my dreams and imagination.
ELLE ARABIA: What's your favorite part of being a fashion designer?
RUBEN GALARRETA: The best part of me being a fashion designer is having my work of art come to life and seeing my ideas being worn by people who use my garments as a form of expression. I love giving them such boldness and exclusivity, it feels like a part of me was in them and that certainly makes me happy.
ELLE ARABIA: Tell us more about Ruben Galarreta
RUBEN GALARRETA: Ruben as a person is an artist, a dreamer with his own individual creativity; the brand is a perfect platform to create these ideas and to bring them to reality. Ruben Galarreta has infinite ideas that he captures from different avenues of life and with that visionary spark I create my garments, the brand has its own uniqueness and that's how we want the people to feel. Ruben Galarreta as a brand is a different world in itself. I am content with people getting attached to this brand and praising me for my work.
ELLE ARABIA: What skills are necessary for a successful fashion designer?
RUBEN GALARRETA: You need talent for creativity and sense of fashion, these are the key factors but there are a lot of other things you need to be successful designer like a well trained staff who can look into every aspect of the brand from marketing to production, infinite hours of hard work and the understanding of peoples desires.
ELLE ARABIA: Describe your personal style
RUBEN GALARRETA: I associate myself with black. Though I love colors but black has endless possibilities and it is so wonderful how you can grab people's attention with the center piece which consists of maybe a vintage printed jacket from the eighties, a pair of colorful sneakers or an antique necklace that peaked my interest from a local market in Nepal.
ELLE ARABIA: What is your inspiration?
RUBEN GALARRETA: Well it comes from anything really; from movies to different eras, from places I have visited to the experiences I have had; from icons to festivals. I feel everything, every dress , every culture has its own uniqueness and you can learn so much. I get my ideas, my inspiration from my surroundings. For example my collection the gypsy army was inspired by the immigration of Romanies from Rajasthan, India to the south of Spain. It makes you develop a different prospective about fashion and life.
ELLE ARABIA: We noticed that you mixed different kind of fabrics, what are your favorite ones?
RUBEN GALARRETA: Well, I love black I always look for different black fabrics that grab my attention like lace, mesh, nets, and neoprene. We strive to look for the fabrics that bring out the rich and shaded colors of the prints.
ELLE ARABIA: Do you think accessories make a difference? And why?
RUBEN GALARRETA: Yes of course they do, accessories are keys to fashion because it can change a day to day outfit into a stylish one. A simple black dress can be trendy and stylist by adding for example one of our harnesses on top.
ELLE ARABIA: We have noticed the presence of the snake in your collection, what does it symbolize?
RUBEN GALARRETA: The snake symbolizes the courage of people who wear our garments, as the snake is controlled by the person rather than the snake controlling the individual, moreover our snakes are made out gold, diamonds and pearls which blends power with luxury.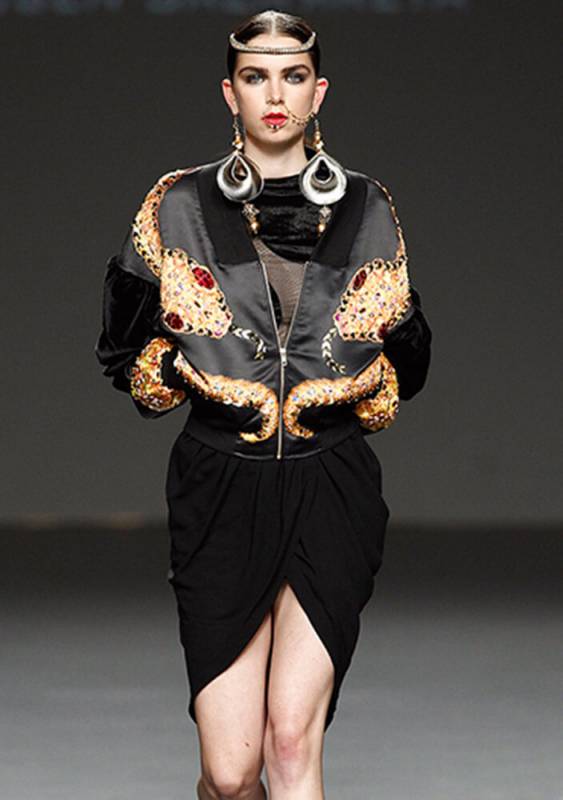 ELLE ARABIA: What inspired your rich choice of colors?
RUBEN GALARRETA: The brand's color pallet is composed of mostly black, gold and colors of precious stones, our brand is a balance between couture and casual and these colors are mostly associated with the royals giving a rich look to our sporty garments
ELLE ARABIA: Which celebrity you would like to see wearing Ruben Galarreta?
RUBEN GALARRETA: Any celebrity who finds connected and touched by our designs, I would be honored and glad to dress them. But if I had to choose only one, I would love to see Kim Kardashian wearing one of my dresses.
ELLE ARABIA: What are your future plans?
RUBEN GALARRETA: Our futures are many. We launched the brand 2 years ago and we have received a lot of appreciation love and support from our customers internationally not only from a specific country. The geographically vastity of our clients requires us to keep and be open all the time and to implement even more of our presence internationally. The new imminent plan is about to come and it is our new bags and jewelry line that will implement our selection of harnesses. In a bigger scale the idea is to consolidate our presence in the countries that we feel more connections, so for sure Middle East is our next step as well as Australia and USA.
Thanks Elle Arabia