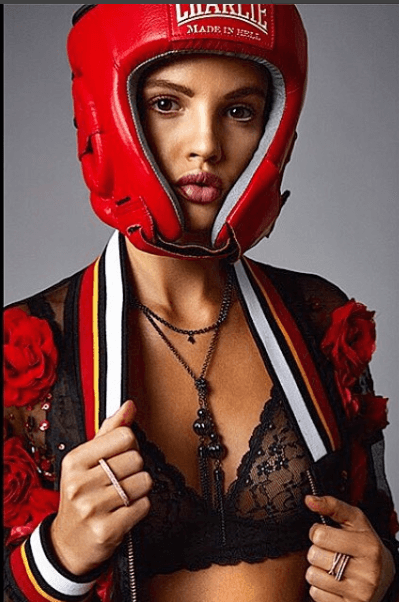 Spanish model Bianca Mihoc was spotted sporting Spanish designer Ruben Galarreta's Rose Bomber Jacket in the most fight club way possible for a Brunch Magazine shoot. The model wore a tempting black lace bralette within while layering it right the Galarreta Rose Bomber Jacket. The Galarreta girl effortlessly slipped into a boxing head gear and turned the elegant Rose Bomb Jacket into a blend of sexy chic and casual wear.
The Ruben Galarreta's Rose Bomber is the piece for you, if you are looking for an entirely handcrafted jacket. The jacket's fabric is super soft and extremely confortable, with drooping shoulders give a relaxing touch to your entire look, making the Rose Bomber Jacket a casual pullover.
Made of silk organza, this jacket has all the potential to get you standing out the crowd with its striped collar and hemlines.
The Rose Bomber Jacket has a running collar with black, yellow, white and red stripes to complement the net. The hemlines of its full length sleeves and at the end adds an edge of casual, while the roses, pearls and stones embroidery highly contrasts it with a suave.
Each of these elements is hand woven into the jacket intricately to complete a best of both worlds look. The embroidery covers the Rose Bomber Jacket from shoulders to wrist and the front, while the back of the jacket is kept bare to tone it down. The Jacket also has a metal front zipper allowing you to keep it casual or elegant as you wish.
The Rose Bomber Jacket is the right fit to make an irrevocable statement.
Team this jacket with somber blue denims, white sneakers and a white razor tee to wear it during a casual day hang out with friends. For the evening, go for a half party half casual look with a black razor tee, black biker denims and a flat pair of suede black boots.
The night can be dazzled with a pair of stiletto heeled boots or pointed toes heels and slim black leather pants to give it a party feel. Zipper can pulled up to keep it sleek.
If you haven't gone and checked out Ruben Galarreta's line, especially this Rose Bomber Jacket, you can visit our couture section  right away. We also have other exquisite detailed pieces for you in skirts, tees, crop tops, leggings and more.