The new dance video "Spanish Lessons" may have premiered as a tribute to the Pop-diva Madonna, but the show-stealer amidst the adept assortment of dancers is the fashion sported by them. Designed by none other than Ruben Galarreta, the costume ensemble is also set up for a grand exposure at the Gala ESAEM 2018 "Revolution of Love". With a host of dancing talent sporting a wide range of costumes that are exclusively designed by Ruben Galarreta for the project, the clip is bound to steal the spotlight at the Awards Gala which is being hosted from Malaga
The clip opens with the backup troupe sporting all-black. The gorgeous women can be seen in some of Ruben's fine see-through blouse, paired with a short black skirt. The costume design catches your eye right off the bat with the female lead sporting a vibrant pink crop-top jacket with sequin embellishments. She can also be spotted in another enigmatic ensemble as she sports another black-one-piece later on with gorgeous, red roses adorning the majority of the dress. The frilly, white-polka dotted black full blouse ensemble with red over the knee socks, designed by Ruben makes the female lead stand out from the backing troupe. The genius of Ruben Galarreta's costume design was reflected in the simple yet unorthodox reimagining of wardrobe regulars like the polka-dotted blouse for instance.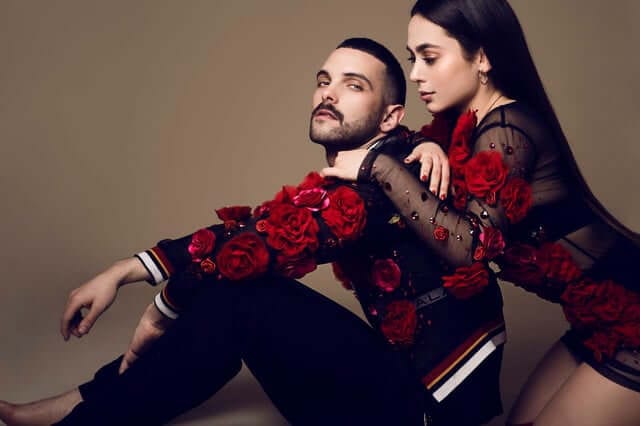 The men are definitely not far behind the curve with Ruben handling the costume designing duties! The cropped-tummy, tanks with text-printed seams holding the apparel together, make the men sizzle throughout the screen-time, as much as the ladies! Ruben Galarreta's signature can be spotted at the seams with the black and white clashing magnificently with the metal-links. The real magic of the costume lay in the color-play. Accessorizing the black with red was another smart addition made by designer Ruben Galarreta.
Credit: photography by Adasat Barroso