HIGH TECH  COLLECTION
DO YOU DARE TO PLAY?
We are glad to introduce our newest collection HIGH TECH by Ruben Galarreta Menswear. This is a collection designed to glorify male shape and to be worn by the boldest men that likes to be on top of everything.
With vertical lines that lengthen the body and enhance male attributes, this collection assures to be the new trending setter among men that feels confident with their bodies and wants a hot look ready to catch the eye of everyone who crosses their path.
By blending stretching materials in every design, our High Tech Collection consist in crop tops for men with a plastic clutch as a front detail that provides extra subjection to the male chest.
With the hottest cut outs, the High Tech leggings will provide flexibility and subjection. This stretchy pants for men are perfect for feeling comfortable and sexy at the same time.
The subtle tones of our High Tech collection will match any outfit. The neutral colors used in our pieces are designed to be combined with everything, but the protagonist of our collection pantone is brandy, a color present in crop top and cut out leggings.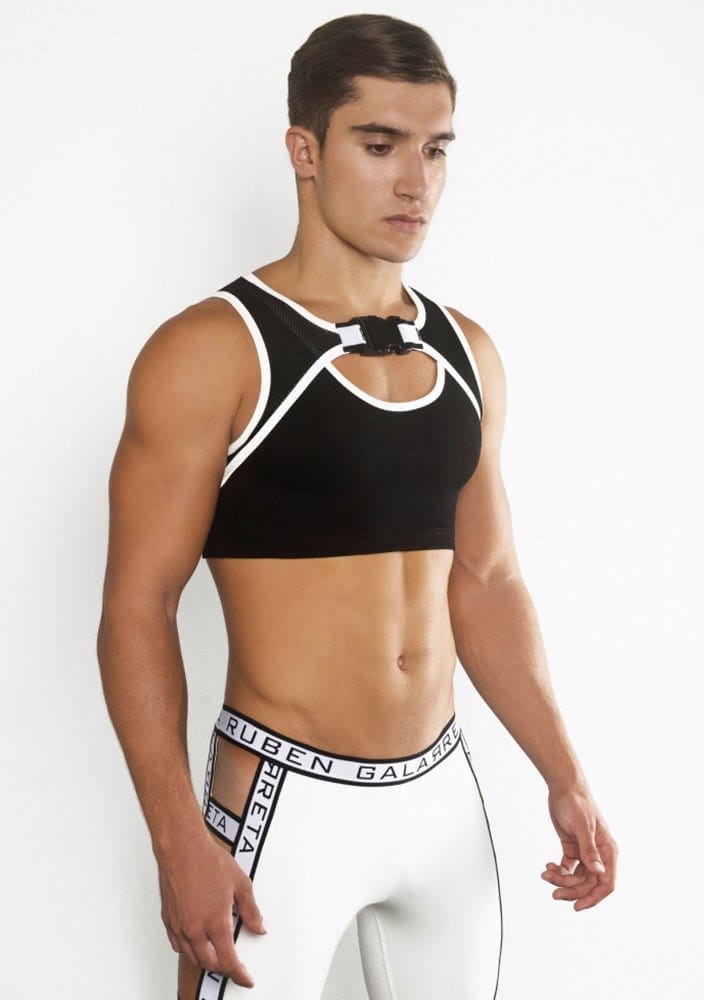 Each and every garment of our High Tech collections is design with the best quality and definitely is the best option for achieving a statement look for any social occasion.
Feel free to create your own Galarreta look by styling our black, white, nude and brandy crop tops and stretchy pants with cut outs.
High Tech is perfect for any party outfit, social reunion or night out. Our pieces can be combined to match your everyday routine look too. You name it! The design of our High Tech collection pieces makes them multifunctional and the perfect mix between comfort and sexy.
We are sure you will fall in love with Ruben Galarreta's newest collection: High Tech.