Ruben Galarreta takes the name from the Spanish fashion designer, born in northern Spain in 1987. The brand based in Madrid  is the perfect balance between boldness and sportswear.
Clean cuts, transparencies, sporty fabrics and unique details. The result turns out to be attractive creations that catch the eye and exploits the male body with track pants, crop tops, sweatshirts, jackets, underwear, and harness; Our brand redefines the concept of male sensuality by enhancing the masculine body with comfortable designs that allows men to be their true selves.
Our collections are conceived for the daring contemporary man who seeks to be trendsetting by the clothes he wears every day. Sexy and bold are the main inspiration lines that our collections are based on. Perfect for the day to day routine, or for a night out party.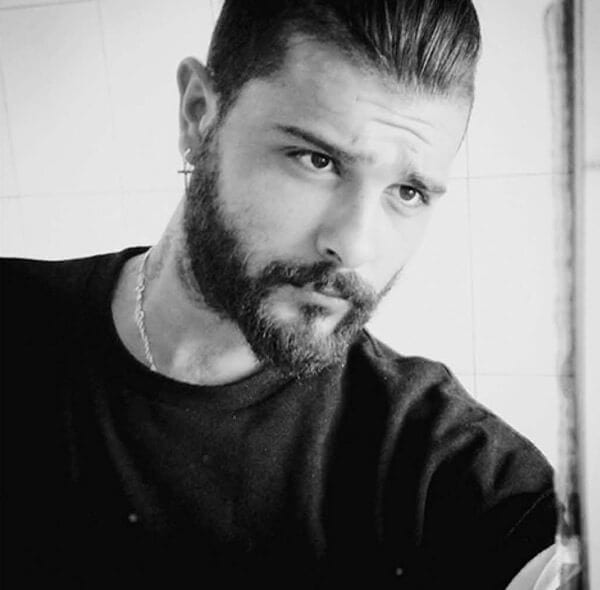 Ruben Galarreta was first launched in 2014 with its first sporty collection. Just a year after, Ruben Galarreta was selected as one of the most inspiring brands of the year and debuted on its first fashion show in Spain.
Our brand has been a reference point for street style trends in different fashion shows along the years. In 2015 the brand showcased The Bindi Show, at MFSMen Madrid; in 2016, Gypsy Army Collection dominated the runway of Mercedes Benz Fashion Week Madrid and in February 2019 the collection Afterparty was showcased at the 080 Fashion Runway in Barcelona, Spain.
Each year the collections have been demanded by international boutiques and celebrities such as Paris Hilton, Lola Indigo, Beatriz Luengo, Maya Diab, Haifa Wehbe, Conchita Wrust and Pilar Rubio.
Our brand has been chosen to portrayed important TV and streaming shows with Universal, Netflix (Elite and Paquita Salas), CocaCola Music Experience, The Voice Spain , Change My Look, X Factor UK, MTV Lebanon, Operación Triunfo, Tu Cara Me Suena, Arde Madrid and more.
The team of Ruben Galarreta works together during the creative and developing process, making sure that all the pieces of every collection are made with the maximum quality. With an international growing demand, we ship our clothes all over the world.
From the team and the designer himself, we welcome you to our exclusive hot trends.
Enjoy!